10. April 2017
Panoramic View of Yokohama – Rapid Prototype
Projects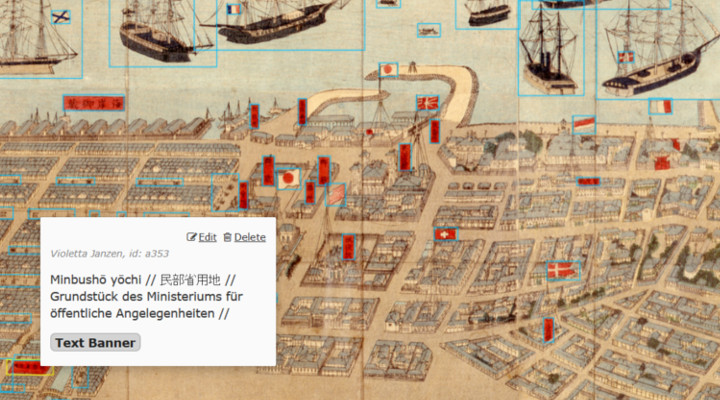 This rapid prototype project showcases the enormous potential of Digital Humanities collaborations. It brings together scholars and researchers from Basel, Heidelberg and Tokyo Universities supported by Data Futures and the Heidelberg Research Architecture.
At the center of the project is a digital representation of "Yokohama ichiran no shinkei", a panoramic view of Yokohama created by Hashimoto Gyokuransai and Ōizumi Kanegorō. The extremly detailed 210cm by 70cm print from 1871 shows a richly annotated view of the city and the bay area.
In the first phase the project creates digital versions of the annotations including transcriptions, transliterations and translations of the more than 250 annotations that have been identified so far. This and the enrichment with cultural background information makes the panorama accessible to an audience that is not fluent in old Japanese.
On the technical side the project investigates two major steps towards a sustainable digital annotation environment: data transformation and the automated generation of assets based on OADM annotations. Visit the project website.
Institute for European Global Studies